Lola Snacks are better for gut health than kombucha, yogurt, gut health supplements or prebiotic sodas because our proprietary blend of pre + probiotics alleviates painful symptoms like bloating, gas and others GI symptoms.
70% of Americans are affected by gut health issues from bloating to IBS. Join the millions of Americans in their journey to tackle gut health issues from bloating to IBS.
Cranberry Almond totally fixed my gut problems.  It took 3 days and 9 bars, but I'm back to feeling good.

Ernie M.
I love dark chocolate and cherries.  Feels like I'm eating dessert, but it's not too sweet! Great for refueling after a workout

Marissa A.
Dark Chocolate Almond is like chocolate chip cookie dough, except it doesn't hurt my tummy and totally takes my bloating away

Natalie H.
Finally a bar that doesn't make me sick after work outs.  Love the blueberry almond.

Rachael T.
I'm GF and V and these guys are great on the fly. So hard to find something that doesn't taste like sawdust so thank you! My fave so far is the chocolate peanut butter.

Morgan S.
Ordering, shipping, receiving and getting my Lola Snacks in my belly went flawless. :0) I have been eating one a day since I got them. And my husband is now eating them (I either need to hide these bars from him or just order more). Thank you for giving me a few extra to try too. :0)

Jami J.
GREAT PRODUCT! This a great non GMO snack! I'm keeping several in my briefcase and workout bag. It fits perfectly into my lifestyle and it's VEGAN

John P.
REAL INGREDIENTS-All the ingredients are recognizable I will be buying more to support my athletic plant based life style.

Amanda D.
I have already eaten three of them!! Blueberry almond replaced my blueberry muffin. Haha, they are so good and I actually suffer from an autoimmune disorder so couldn't be a better snack for me!

William G.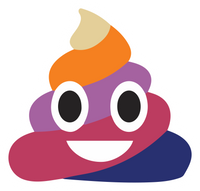 This sh*t really works
"Fuel your day with a little rainbow'probi-turd' power! Who knew healthy could be this hilarious? 😂 #GutFeeling #ProbioticPoop"